THE BHAVAN'S
SUMMER SCHOOL 2023

THE UK'S MOST SOUGHT AFTER SUMMER INTENSIVE IN INDIAN CLASSICAL ARTS

Sun 16 JULY - Sun 6 AUGUST
Registrations - Sat 15 July | 1.30 pm - 4.30 pm

(Odissi, Bengali music, and Spoken Hindi have different dates. Kindly check them below)

SUPPORTED BY CHELLARAM FOUNDATION
The Bhavan's Summer School is back!
Now in its 38th year, it is the most sought-after summer intensive in Indian Classical Arts in the UK.
Train with some of the best teachers from India and Europe and immerse in three weeks of intensive training live at The Bhavan.
From Hindustani and Karnatic Vocal, Sitar, Tabla and Mridangam to Bharatanatyam and Kathak we have got you covered.
The unique Summer School experience is filled with fantastic showcases by the visiting teachers and a grand finale where you will perform to the public.
Come discover hidden depths to your artistic practice and raise your performance to the highest level.
Please note, all classes will be held live at the Bhavan unless otherwise specified. Please check individual subjects for timetable and fees.

ALL MUSIC AND INSTRUMENTAL CLASSES WILL BE LIVE AT THE BHAVAN ON SATURDAY, SUNDAY AND THURSDAY.
STUDENTS CAN AVAIL THE OPTION OF ATTENDING THE CLASS ONLINE ON MONDAY, TUESDAY AND WEDNESDAY.
SUMMER SCHOOL 2023 TEACHERS
DANCE SUBJECTS
ODISSI | £110/£85 | 10 JULY - 16 JULY
Dr. ILEANA CITARISTI
ABOUT
Italian by birth, Padmashree Dr Ileana Citaristi holds a Doctorate in Philosophy with a
thesis on 'Psychoanalysis and eastern mythology'. She has come to Indian dance after years
of experience in the traditional as well as experimental theatre in Europe.
She learnt Odissi under Guru Padma Vibhushan Kelucharan Mohapatra.
Ileana has given performances in all the major dance festivals in India and across the world.
She is known for her experiments in Odissi and Chhau and for her creative choreographies
dealing with traditional as well as innovative themes, and has won numerous awards over the years including the title of Padmashree from Government of India for her
contribution to Odissi dance.
In Bhubaneswar she is imparting training in Odissi and Chhau dances to local as well as
visiting students in her own institution Art Vision, founded by her in the year 1995. Through
Art Vision she is regularly hosting performances of folk theatre and Odissi dance for visitors
and tourists in the mini auditorium situated in her school premises.


TIMETABLE

ADNANCED | £110
Mon, Wed, Fri - 6.30pm - 8.30pm
Sat, Sun - 11.30am - 1.30pm

BEGINNERS/INTERMEDIATE | £85
Tue, Thur - 6.30pm - 8.30pm
Sat, Sun - 9.30am - 11.30am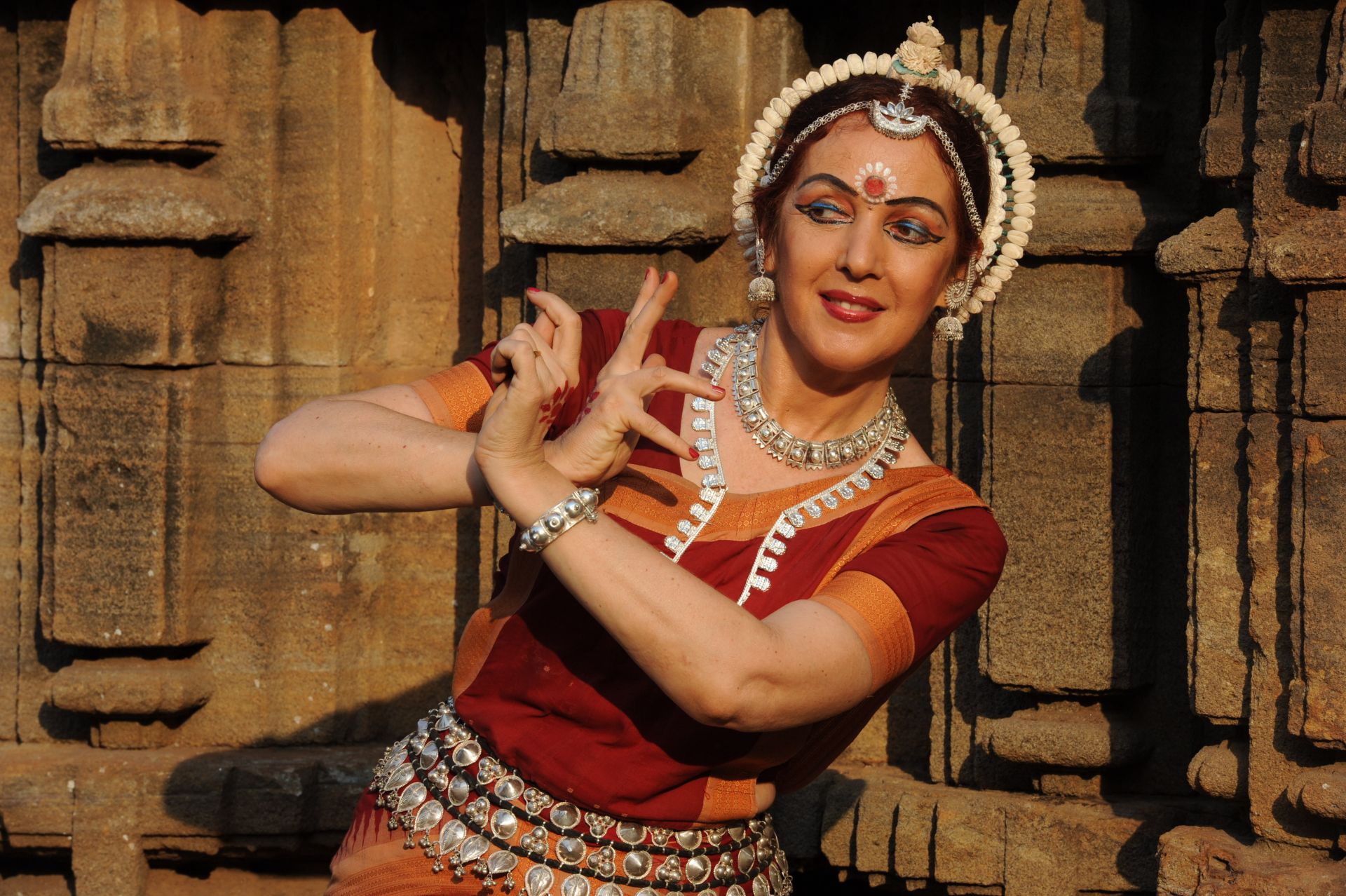 SMT SREKALA BHARATH
ABOUT
Kalaimamani, Natya Acharya Dr.Srekala Bharath is one of Chennai's foremost Bharatanatyam dancer. A widely travelled and deeply dedicated artist, Srekala is a senior disciple of legendary Guru Smt.K.J.Sarasa. Srekala has carved a niche for herself in the world of Bharatanatyam through her distinctive choreographies and unique presentations. She is a meticulous teacher who has trained more than 400 students globally through her Thejas School of Performing Arts. She is probably the only dancer who released a coffee table book 'Yatra' on her dance journey spreading over 50 years.
A prominent disciple of the legendary Guru K.J.Sarasa, Srekala had her calling in dance at the age of 7. Since her arangetram on 22nd May 1972, she has been performing in both solo and group categories with over 900 stage performances in national and international arena with a career reaching a milestone of over five decades in 2020. She has created a niche for herself in the world of this beautiful dance form Bharatanatyam, with her inimitable style, nimble footwork and exquisite abhinaya.
Her creative journey as an artiste has taken her across 28 countries spanning 5 continents and staging countless moments of her unique interpretation of Bharatanatyam. Regularly featured in the Chennai City sabhas during the December Music and Dance festival, Srekala has travelled across India participating in the state festivals, giving thematic presentations for key organisers, choreographing solo and group presentations- Bhakta Meera, Mahila Mahima, Jai Santhoshi Maa, Dasavataram, Annamayya Bhakti Manjari and Arupadai Veedu to name a few.
She established Thejas School of Performing Arts-TSPA in 1999 in Chennai that has trained over 400 students so far. Srekala has released DVDs on the concepts of Learning the basics of Bharatanatyam along with margam, invocatory items and a couple of varnams.
As a scholar, she was conferred senior fellowship by the Government of India and submitted a thesis on Evolution of Bharatanatyam and adapting them to Dance Drama. She has also presented papers at International venues on dance and its expression with relevance to contemporary times.
Srekala derives her inner strength through her untiring dedication, determination and devotion to this divine art, that has fetched her many awards in recognition of her works including the Kalaimamani from the Government of Tamil Nadu, Bharata Ratnam from the government of Sri Lanka and House of Commons recognition from the Government of Canada in Toronto.
SREKALA BHARATH - BHARATANATYAM CONCERT |
Summer School Teachers' Concert Series 20
23

SUN 30 JULY | 5PM – 7PM
£17/£12 (£15/£10 if booked online. Use code BHAVAN50)
OPENING ACT - ABBEYRAME LAVENIYA SRIHARAN
KATHAK | £200
DR. ABHAY SHANKAR MISHRA
DR. Abhay Shankar Mishra is one of the leading exponents of Kathak dance in the UK and in the world today. A mesmerizing performer, dynamic teacher, and creative choreographer of Kathak, Abhay currently lives and works in India. Born into a family steeped in musical tradition and trained under world-renownedGurus, namely Padma Vibhushan Pandit Birju Maharaj, Smt Urmila Nagar Ji and late Pandit Pandey Maharaj, Abhay had the unique experience of learning all three of the major Gharanas of Kathak, i.e., Lucknow, Jaipur, and Banaras.

He draws on his vast experience to achieve a beautiful blend of all three Gharanas in his work.
DR. ABHAY SHANKAR MISHRA - KATHAK CONCERT |

SUMMER SCHOOL TEACHERS' CONCERT SERIES 2023

£17/£12 (£15/£10 if booked online. Use code BHAVAN50
ACCOMPANIED BY Pt. RAJKUMAR MISRA ON TABLA

OPENING ACT - Aishwarya Hariram
SUMMER SCHOOL 2023 TEACHERS
MUSIC SUBJECTS
HINDUSTANI VOCAL | £175
PT. NAGARAJ RAO HAVALDAR
Pandit Dr. Nagaraj Rao Havaldar is a leading artiste of the Kirana Gharana trained under Pt. Madhava Gudi and Pt. Panchakshari Swami Mattigatti. He has toured the U.S. and the U.K. extensively, and performed at the Chhandayan All Night Music Festival (New York and Toronto), Dhrishti Foundation tribute Concert (Chicago), Arsha Vidya Gurukulam (Pennsylvania), Chinmaya Mission (Chicago), amongst others. Dr. Havaldar is the founder president of Sunaada Art Foundation, an organization that aims to promote and preserve Indian classical music for the future generations.
Pt.NAGARAJ RAO HAVALDAR - HINDUSTANI VOCAL CONCERT |
SUMMER SCHOOL TEACHERS' CONCERT SERIES 20
23
£17/£12 (£15/£10 if booked online. Use code BHAVAN50
ACCOMPANIED BY SUBRATA GUPTA ON TABLA & Pt. VISHWAPRAKASH ON HARMONIUM


OPENING ACT - VIDYA JOSHI
ACCOMPANISTS:
TABLA - SOUMYARAJ
HARMONIUM - BHAVIN

KARNATIC VOCAL | | £175
Smt. BABY SREERAM
Dr. G.Baby Sreeram was born into a musical family in Thiruvananthapuram. Her first Guru was Smt.Ananthalakshmi Venkitaraman, who was the direct disciple of her grand father Sri Bagavatheeswara Bhagavathar. She then went on to receive the Cultural Scholarship instituted by the Govt.of India. She continued her studies in Music under Sangita Kalanidhi T.M.Thiagarajan and later on under Sangita Kala Aacharya Sri.P.S.Narayanaswamy.
She received DIRECT "A" from AIR, Trivandrum in 1997, and then opted to settle in Chennai since 1992.
She has formed a group SAMARPANA for the students of music.
Every month the group does thematic presentations. The group has nearly 30 dedicated students who are very enthusiastic to learn more and does quality research work on various themes. Last month their group visited Kovur Temple and sang Kovur Pancharatna Krithis in the temple premises.
Inspired by Sri Sethalapathi Balasubramaniam, who was the direct disciple of Sri Papanasam Sivan, she has developed a special liking towards Viruthams. She is able to preface most of her Tamil songs with appropriate Viruthams that would continue to ring in your ears, even after any concert of hers gets over.
SMT. BABY SREERAM - KARNATIC VOCAL CONCERT |

SUMMER SCHOOL TEACHERS' CONCERT SERIES 2023


SUN 23 JULY | 5PM – 7PM

£17/£12 (£15/£10 if booked online. Use code BHAVAN50
ACCOMPANIED BY BALU RAGURAMAN ON VIOLIN, H S SUDHEENDRA ON MRIDANGAM

Opening act – Srividya Srinivasan


TABLA | £175
Pt. SUBRATA GUPTA
ABOUT
One of the leading percussionists of India, a "GANDA BANDH" sagird of the legendary Tabla
Maestro Pt. Shankar Ghosh, Subrata is an accomplished and versatile Tabla player. He is a soloist
and an accompanist as well.


Subrata is a regular artiste of All India Radio and Doordarshan Kendra (Kolkata).
He is also a well-recognized and much wanted accompanist by most of the leading musicians
and prestigious classical soirees all over the country like The Dover Lane Music Conference, West
Bengal State Music academy, Baba Alauddin Sangeet Samaroh (Kolkata), All India Music
Festival, Nabarang Music Festival, Salt Lake City Conference, Sangeet Piyasi Music
Conference, Swami Haridas Sangeet Sammelan, Baroda Music Festival (Gujrat), Kal Ki
Kalakaar (Mumbai) and so many.
Subrata is equally accomplished as a Guru. He has trained hundreds of students from all over
the nation in his music academy Dhyan School of Performing Arts. Also, he is one of the faculty
members of Bickram Ghosh Academy of Performing Arts, Kolkata.
MRIDANGAM | £175
H.S SUDHEENDRA
ABOUT
H S Sudheendra has been serving the field of music for nearly 40 years. He has been under the tutelage of two great gurus Vidwan Sri. M.Vasudeva Rao and
Vidwan Sri. Srimushnam.V.Raja Rao, two outstanding exponents of the Art of Playing Mridangam,
widely respected both as performers and teachers.
He has accompanied all the leading Carnatic
musicians and has captured the hearts of music lovers in India as well as abroad with his versatile
performance on the Mridangam.
Graded 'A-Top' he performs for AIR, Doordarshan. He has toured extensively in India giving
performances under the auspices of various renowned cultural organisations, during the special
anniversaries, annual conferences and monthly programs. He has also toured
Germany, England, Muscut, Dubai, Quatar, USA, France, Australia & Singapore to promote our culture and
traditions on several occasions.
He also serves as the member of the Textbook Committee for Talavadya Exams, Government of
Karnataka and the Department of Karnataka Secondary Education Board for conducting the examinations.
He is the founder trustee and principal of Suswaralaya College Of Music. The main objective of this is
to promote Carnatic classical music, providing ample opportunities to youngsters and to extend financial
assistance for emergency medical expenses of needy professional Carnatic Musicians. He is training many
students some of who are recipients of Central and State Government Scholarships and most of whom are
performers. He has produced many CD's and cassettes from this organisation.
VIOLIN | £175
Sri. BALU RAGURAMAN
ABOUT
A Fellow of Trinity College, London, Balu Raguraman is a talented Carnatic violinist who has performed extensively around the world, including appearing with musicians from Western classical, jazz and African music traditions. He is known as an innovative and adaptable musician who has worked with some of the greatest maestros of our time including the famous Dr. Balamurali Krishna, Dr. N Ramani, and Umayalpuram Shivaraman. He is also involved in The Bhavan's special music series "Bhinna Abhinna", a collaborative project featuring musicians from different genres and styles.
BENGALI MUSIC | £125 | 16 JULY - 6 AUGUST
Smt. SAJALI ROY
Teaching at The Bhavan since 2005, Sajali Roy's career began as an artiste for All India Radio Kolkata. Her gurus include the late Dr. Jamini Nath Ganguly, late Dr. Biman Mukhopadhay, late Maya Se, Pt. Ajoy Chakraborty and Jharna Banerjee. She has directed, performed and been a judge shows across India, Bangladesh, East & West Africa and in the UK, including Southbank Centre, Nazrul Centre and for national television on Doordarshan in India. A qualified Sangeet Prabhakar (teacher), she teaches Bengali song-forms such as Rabindrasangeet, Nazrul Geeti, Dwijendra Geeti, Atul Prasadi, Rajnikanth and Raag Pradhan to students of all ages.
ABOUT THE COURSE
During Summer School, students will learn Bengali folk songs and raga pradhan songs.
*THIS COURSE IS ONLINE AND IN-PERSON*
15 JULY - 1 AUGUST

ADVANCED
Mon, Tue - 3pm- 4.30pm (online)
Sat - 12pm - 1.30pm (in-person)


MASTERS
Mon, Tue - 7.30pm (online)
Sat - 1.30pm - 3pm (in-person)
SUMMER SCHOOL 2023 TEACHERS
LANGUAGE
SPOKEN HINDI | £100 | 15 JULY - 30 JULY | ONLINE ONLY
Smt. INDU BAROT
Smt. Indu Barot has a master's in Sanskrit and in Computer Science. She writes poetry, articles and stories, and is also a translator of Hindi, Sanskrit ad English works. She is the resident teacher for Hindi language at The Bhavan.
ABOUT THE COURSE
This is an introduction to spoken Hindi and is suitable for complete beginners. You will learn basic vocabulary and simple grammar through the spoken word. You will show Hindi story in each session and good conversation about the story. You will learn how to make small sentences.
*THIS COURSE IS ONLINE ONLY
15 JULY - 30 JULY
(Tue, Thur, Sat, Sun)
Tue, Thur - 6pm - 7.15pm
Sat, Sun - 11am - 12.15pm
SUMMER SCHOOL 2023 FINALE
Celebrate the talents of all the students as they perform on the Bhavan stage as a part of the Summer School 2023 finale.

Sat, 5th August - 3 pm onwards
Sun, 6th August - 3 pm onwards
TICKETS -
£14 at the venue/£12 if booked online
Use the code 'BHAVAN50' to get your

discount

while booking
FREQUENTLY ASKED QUESTIONS
Most full-time subjects will be running three levels of instruction depending on your previous experience:

Intermediate - Minimum 2 years training
Advanced - Between 2-4 years training
Master - At least 4 years training, strong performers & professionals
In person registrations - SAT 15 July | 1.30 pm - 4.30 pm
Intensive - Sun 16 JULY - Sun 6 AUGUST


Finale Events: Sat 5 & Sun 6 August 2023

Please see general TIMETABLE below.
Odissi, Bengali Music, and Spoken Hindi courses have different timings, kindly check the specific subjects to confirm.

SOME SUBJECTS HAVE ONLINE OPTION AVAILABLE. KINDLY CHECK THE INDIVIDUAL SUBJECTS TO SEE THE AVAILABILITY.
BHAVAN EVENTS

BROWSE THROUGH OUR SPECIALLY CURATED EVENTS, PERFORMANCES, WORKSHOPS, AND EXHIBITIONS TO MARK OUR GOLDEN JUBILEE YEAR
Join us now

Be the first to know about new courses and discounts: Subscribe to our Newsletter