SUMMER SCHOOL TEACHERS' CONCERTS SERIES - WEEKEND I

REPORT
The Bhavan, London is currently in the middle of its annual Summer School program. It is a three-week intensive in Indian Classical Arts including dance, music, instruments, and languages with renowned teachers from India and the UK.
As part for the intensive, we also host concerts by all the visiting teachers.
The weekend of 22 and 23 July saw Hindustani vocal recital by Dr. Nagaraj Rao Havaldar and Karnatic Vocal recital by Dr. Baby Sreeram respectively.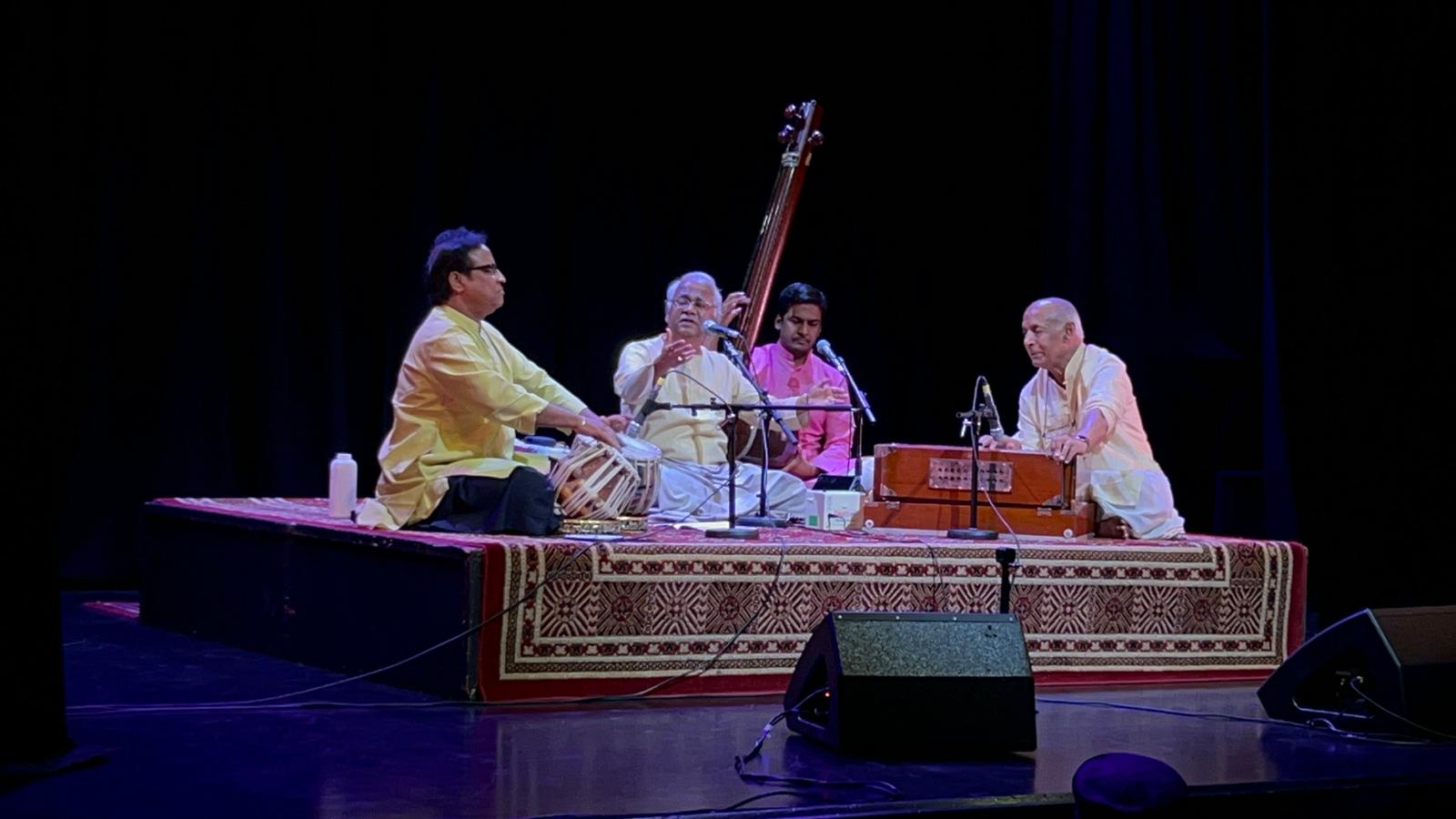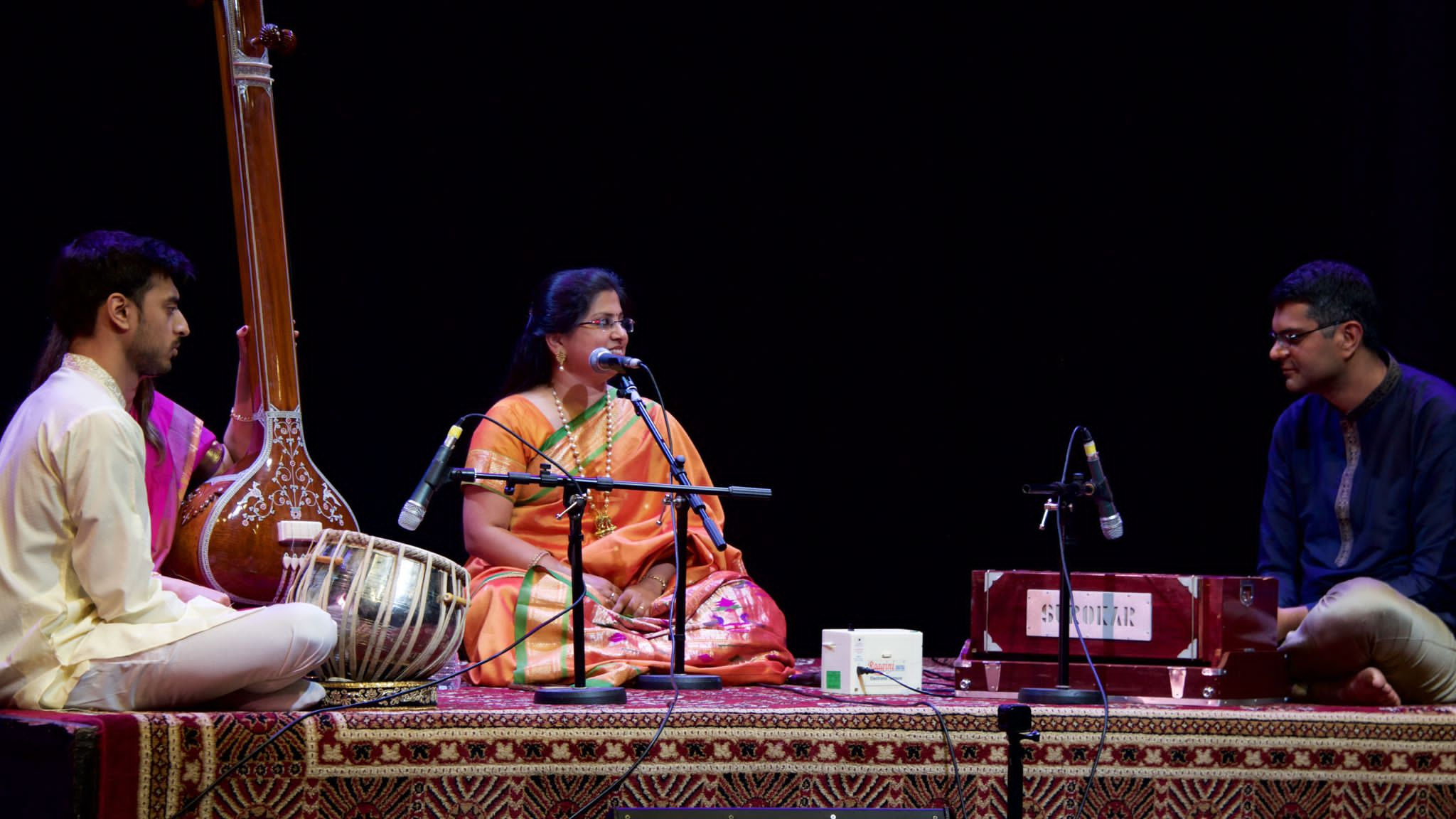 On Sat, 22 July,
the Hindustani vocal recital began with an opening act by Vidya Joshi, a disciple of Bhavan's resident teacher Smt. Chandrima Mishra. She was accompanied by Soumyaraj on Tabla, Bhavin on Harmonium, and Vaishali on Tanpura. Vidya Joshi was confident in her presentation and won the audience over.
This was followed by the main recital by Dr.Nagaraj Rao Havaldar.
He began with a rendition of Raga Yaman in Madhyalaya Jhaptaal; and the piece 'Aaj Bajaye Bansuri' This was followed by a piece in Raga Natmalhar.
He followed this up with 'Teertha Vithala', an Abhang made popular by the legendary Pt. Bhimsen Joshi. The concert concluded with a Purandara Dasa composition in Raga Bhairavi and Jhaptaal, which was tuned by Dr Havaldar himself.
He was aptly supported by Pt. Subrata Gupta, (the teacher for the summer school) on Tabla, Pt. Vishwaprakash on Harmonium, and Chirag Agarwal on Tanpura.
Dr Havaldar also spoke about the lineage and the responsibility of the artists to carry forward the Parampara to the younger generation.
The audience was delighted to hear him speak and share his journey in music and enjoyed his expert rendition of the Hindustani vocal tradition.


On Sunday, 23 July, the evening began with an opening act by Srividya Srinivasan, disciple of Bhavan's resident teacher Sri Sampath Kumarachary Daruri. She was accompanied by Sri Balachandar on Mridangam, Akshay Koushik on Violin, Srinivasan on Ghatam, Kapilanand Kurumoorthy on Morsing.
She presented three short piece and showed her prowess and strong voice.
This was followed by the main recital by Dr. Baby Sreeram. She presented some rare Krithis and impressed the audience with her mastery of the tradition and range.
She started with a shlokam on Ganapti in Mayamalava Gowla, and continued to Deva Deva Kalayami of Swati Tirunal with a small 'Manodharma' on Kalpana Swaras (Improviosation on creative notes).
She proceeded to a brief Raga- Alapana in the traditional Reetigowla Ragam and sang a beautiful composition of Neela Kantha Sivan, tuned by her Guru Sri T M Thyagarajan.
She then performed an elaborate Raga Alapana (exposition) of Hamsanandi and another composition 'Neelakantha Nityananad, tuned by herself.
The main piece of the concert was in the majestic Bhairavi with a rare composition of Pallavi Seshayyar with an elaborate exposition and a Korvai.
An intellectual Tani Avartanam was presented by Sri H S Sudheendra on Mridangam.
She sang a Virutham in Behag Raga from the text 'Narayaniyam' in which Sri Balu Raguraman excellend in his Violin rendition; a Swati Tirunal javali; and a piece composed by her Guru in Ragam Varamu.
The evening concluded with a Thillana in Bindumalini composed by herself.
Her presentation took the audience travelling back to an atmosphere of the olden times; it was authentic and nostalgic which was greatly appreciated by our audience and students.
Also accompanying her was Varsha Raman on Tanpura.
Both the concerts were received very well by the London audience. It was a pleasure to see artists from India enthral the music aficionados here.
The upcoming weekend will feature Kathak recital by Sri Abhay Shankar Mishra (accompanied by RajkumarMishra on Tabla and Pt. Vishwaprakash on harmonium) on Saturday 29 July, and Bharatanatyam recital by Smr. Srekala Bharath on Sunday 30 July. The opening acts will be by Aishwarya Hariram and Abbeyrame Sriharan respectively.
Tickets are available to book on our website bhavan.net.