Visitors to The Bhavan should note our
current COVID Measures
.
We look forward to seeing you all again and t
hank you all for your continued support.

The Bhavan
SANSKRUTI CENTRE FOR CULTURAL EXCELLENCE PRESENTS - SIVOHAM
Fri, Feb 24 | 6.30 pm - 8 pm | £8/£6
An enriching experience with a rich tapestry of heritage and arts diversity
The event highlights Sapta Tandava- the seven cosmic dances of Lord Shiva from
Ananda Tandava to Samhara Tandava in a multidisciplinary format. The contexts and
the stories related to each Tandava will be presented enriching the cultural experience
of the audience.
The occasion also highlights important centuries-old works by different composers,
raising awareness of intangible heritage of India coinciding with the Azadi Ka Amrit
Mahotsav celebrations.
Presented by Sanskruti Centre for Cultural Excellence
All proceeds go to charitable causes.
Language of Event: Mainly Sanskrit and English
Presenting artists have been actively performing and promoting Yakshagana, Odissi,
Bharatanatyam, Kathak, Mohiniattam and Kuchipudi dance forms across different
parts of the UK, in addition to the professional commitments in their own roles.
Main performers:
Raja Masilamani
Snacks shall be
served
SASVATAM PRESENTS – PRAVAHA 2023
Sat 11 March | 4 pm | £15/£10
Sasvatam presents "Pravaha" 2023. Renowned artists will be performing along with other
budding artists and dance teachers and students it is the opportunity to share the stage with
the renowned artists Guru Dr. Jayanthy Yogharajah, Guru Dr. Sri Ganesan (Malaysia),
Salangai Narthanalaya Academy of fine Arts presenting Radhe Shyam dance drama.
Grab this Opportunity to perform at Sasvatam Grand Stage of The Bhavan London.


- An artistic presentation in Bharatanatyam by Season Unnikrishnan and Ritu Raj
Sun, 3o April | 5.30 pm | £20/£15/£12
Dvitvam is a visual exploration of space and time in dance expressing perspectives or interpretations of two dancers. Beyond the physicality of movement, it reinforces the deep philosophy of duality merging to create a space of oneness: the dancer merging with the dance, human with the divine, Prakriti with Purush, ultimately arriving at a point wherein remains no distinction between the two.
Dancers - Shri Season unnikrishnan and Kumari Ritu Raj
Nattuvangam - Guru Smt. Meena Rajagopalan
Vocal - Shri Vamshikrishna Vishnudas
Mridangam - Shri Prathap Ramachandra
Violin - Shri Balu Raguraman
Flute - Shri Pitchaiappah Gnanavarathan
Ticket link coming soon
Mental Health Workshop for South Asians
Organised by 'Rain on me'
Sun 22 Jan | 11am - 4pm | £16 (general) / £12 *student)
Prioritise your wellbeing this New Year! This interactive workshop, held at the prestigious Bhavan, will be a safe space where you can share how you feel without any fear of judgement. You will have an opportunity to raise your self-awareness and go on a journey of self-discovery. Through our group conversations and exercises, you will leave the workshop feeling confident and equipped with the tools you need to support your mental health and empower yourself.
Topics we will explore-
Exploring your Identity
Navigating Cultural Conditioning
Raising Self-Awareness
How to Emotionally Support a Loved one
The Impact of Toxic Masculinity
How to Support Yourself through Depression
PANEL DISCUSSION –
MULTICULTURALISM IN THE UK: THE HINDU PERSPECTIVE
**This event has been postponed due to unavoidable circumstances**
Speakers: Dr Sachin Nandha & Andrew Harrop
Presented by Vichaar Manthan

Sat 21 Jan | 6 pm | Entry free, registration required
The demographic diversity of the United Kingdom has grown significantly over the last 70 years, with immigrant communities from across the world, especially from the former Commonwealth, finding their homes here and becoming a vital part of British society. Recent events in Leicester and Birmingham have, however, revealed that community cohesion issues are still alive in the UK today. The spotlight therefore falls on the idea of 'multiculturalism'. What does 'multiculturalism' mean? What view does it offer of how different communities with different values and worldviews should interact in order to create a cohesive yet plural British society? Has multiculturalism now failed, or does it still provide a viable framework for the UK to flourish? In particular, how has the UK's Hindu community-built relationships with the rest of British society, and how do our ideas of multiculturalism stand up today in the light of the Hindu values of liberty, equality and pluralism?
Come and join us to discuss this crucial issue in Vichaar Manthan's first in-person panel discussion of 2023.


Speakers: Dr Sachin Nandha & Andrew Harrop
SUJATA BANERJEE DANCE COMPANY PRESENTS – HEMANTIKA FESTIVAL
Sun Nov 20 | 6 pm | £15/£20/£25
Sujata Banerjee Dance Company's much-anticipated Hemantika festival is back for 2022!
Now in its seventh year, Hemantika is a celebration of South Asian dance in the UK, to showcase our incredible home-grown talent, bring world-class artists to UK audiences, offer hundreds of students and youth groups performance opportunities, create new works, deliver masterclasses, and present thought-provoking talks & seminars. You will see a range or talented and highly skilled young Odissi, Bharatanatyam and Kathak dancers.

This is the third day of the festival, and will conclude with an evening of classical Indian dance, presenting distinguished UK and international artists from the Bharatanatyam, Kathak and Odissi dance forms with live music accompaniment.
Bharatanatyam performance by Sundareshan Ramesh
Bharatanatyam performance by Anaya Bolar
Odissi performance by Arushi Mudgal
Kathak performance by Ashwini Kalsekar

Generously funded by Arts Council England.
'NRITHYA ARPANAM' - MOHINIYATTAM PERFORMANCE BY SMT. SHALINI SHIVASHANKAR
Fri Nov 18 | 6.30 pm | £15/£12/£10

Shalini Shivashankar presents an evening of Mohiniyattam (solo) to pay tribute to her Guru Smt Sreedevi Rajan and her grand Guru Late Kalamandalam Kalyani Kutty Amma. Mohiniyattam is a rare art form in the UK and there are not many practitioners and teachers here. Shalini wants to bring to the audience a true experience of this beautiful graceful form of natyam. She has been teaching this dance style at Upahaar for the last ten years and has been striving hard to get the attention and involvement of organisations and funding bodies to help promote this art form. One of the reasons for this solo performance is to showcase the immense depth and possibilities of movement and abhiniya (expressional dance) through this art form.

The evening will bring to you pieces in the format of the traditional kutcheri (repertoire) as designed by Kalamandalam Kalyani Kutty Amma. Some of the traditional pieces you will see are Cholkettu, Varnam, Padam, Thillana, Saptham, Shlokam. All the compositions selected are those choreographed by Guru Kalamandalam Kalyani Kutty Amma or Guru Sreedevi Rajan.


Shalini is blessed to be accompanied by a wonderful set of musicians headed by Smt Smitha Rajan on the nattuvagam (grand daughter of Kalamandalam Kalyani Kutty Amma and daughter of Smt Sreedevi Rajan), Vamshikrishna Vishnudas on vocal, Prathap Ramachandra on mridangam and Vijay Venkat on the flute.
Jal Tarang presents - SANGAM - CONFLUENCE OF DIVERSITY
Sat 5 Nov | 5 pm | £10
JalTarang presenting Sangam,a spectacular evening exhibiting incredibly diversified Indian cultural show with phenomenal performances and supporting Autism Awareness.
The show presents Living legend Kathak Exponent Padmashree and MBE Pt. Pratap Pawar who has mesmerised the audiences over fifty five years and transcended Kathak dance to Global
Platform and International fame.
Geetanjali school of Arts will be performing along with founder Jayeeta Ghosh ,eminent Hindustani Classical vocalist with her contribution and educational role on Indian music being acknowledged with various Awards from
House of Commons and Lord from
organisations.They will showcase Colors of Raga , as the children endeavour to connect souls with glorious Hindustani classical Ragas and glimpses of impeccable traditional Gwalior Gharana at The Bhavans.Do not miss the uplifting compositions of Tarana ,Chatarang, Trivat ,Hori and more.
JalTarang's Sangam also presents "Bhanusingher Podaboli" the collection of romantic poems that celebrate recessive love between Krishna and Radha.
The lyrical poems akin to Rabindra Sangeet is written in Brajabali script and have captivated dance afficianados. These phenomenal piece of art will be presented by Bithi Purkyastha with her Team .Bithi ,founder of Robi Chondo is prominent artist in London and performed in prestigious International venues across Europe and US with an aim to encourage and understand inspirational work of Tagore and other Bengali poets.
JalTarang 's Sangam is a cultural show that presents confluence of diversity of music and acceptance of neurodiversity with a social cause on Autism awareness.
ALPANA SENGUPTA DANCE COMPANY PRESENTS - A CLASSICAL EVENING
Sat 22 Oct | 5.30pm | £20 (£15 Concession tickets. Group booking of 5 for £70)
Alpana Sengupta Dance company presents an evening of Kathak dance with live musicians, featuring up and coming dancers as well as a special performance by Guru Alpana Sengupta and guest artist Ragini Madan. The dancers will present all aspects of Kathak: Nritta, Nritya and Natya.
BHAGAVADAJJUKAM - SANSKRIT DRAMA - *POSTPONED*
* This event has been postponed due to unforeseen travel complications of the artists*
Sat 15 Oct | 5.30pm | £15/£10 (20% Concession for group booking of 4 and more, and for children and senior citizens).
Unique experience for all
A thought-provoking drama fully in Sanskrit staged in the UK marking Azadi ka Amrit Mahotsav milestone year.
*Bhagavadajjukam*- the humorous, witty, satirical (prahasana) play by Bodhayana stirs the thoughts and provides
pabulum for reflecting on philosophy and dharma.
Organised by Sanskruti Centre for Cultural Excellence, presented by Central Sanskrit University, New Delhi- in association with Samskrita Bharati UK, Bharatiya Vidya Bhavan and ICCR London (Nehru Centre), High Commission of India.

* This event has been postponed due to unforeseen travel complications of the artists. All those who have purchased tickets will be automatically refunded*
Felicitation event - SRI. JOGINDER SANGER
Fri, 14 Oct | 6.45 pm for 7 pm | Free entry, registration required

The Chairman and Executive Committee of The Bhavan UK, Cordially invite you to a reception
to felicitate Sri Joginder Sanger who served as the Chairman Bharatiya Vidya Bhavan, London from 2011 to 2022
and as the Vice-Chairman from 1993 to 2011
on Friday 14 October 2022
at 6.45 pm for 7.00 pm
The event will showcase short speeches, cultural items followed by dinner.
ENTRY FREE, REGISTRATION REQUIRED
The Bhavan Celebrates - DURGASHTAMI
Mon, 3 Oct | 7 pm | Free entry, registration required

The Bhavan London warmly welcomes you to Durga Puja 2022.
Join us for the puja celebrations followed by devotional songs, dance, and prasad.


Come celebrate the energy of the Goddess.

This event is sponsored by the Bharadwaj family

* Registration link coming soon
GURU SAMARPANAM - BHARATANATYAM by SHALINI SHIVASHANKAR
Sun, 25 Sept | 6 pm | £20/£15/£10

Shalini Shivashankar presents a solo Bharatanatyam recital 'Guru Samarpanam' - an offering to her Gurus The Dhananjayans. Shalini has been training through the two years of the pandemic with her Gurus and is honoured to perform in their august presence at the Bhavan, London U.K.
ABOUT THE ARTIST
Shalini Shivashankar, Founder and Artistic Director of Upahaar School of Dance, U.K. has been undergoing training in Bharatanatyam consistently over the last few years under the guidance of the Natyachaaryas, Padmabhushan Sri VP Dhananjayan and Smt Shanta Dhananjayan (Founders of Bharata Kalanjali, Chennai). She was initiated into this form of Natya under the tutelage of Smt Padmini Ramachandran of 'Natyapriya' Bangalore. She further trained under the guidance of Smt Shyamala Surendran and Smt Radhika Shurajit - both senior disciples of the Dhananjayans. Shalini has also been trained in Mohiniyattam by Smt Sreedevi Rajan - daughter of the legendary Late Smt Kalamandalam Kalyanikutty Amma.
Shalini founded Upahaar School of Dance in 2003 with the sole and sincere purpose of transferring the Indian classical forms of Natya to interested students in an authentic way. She firmly believes that natyam and sangeetham are inherent in everyone and if trained well, these arts inculcate a unique connection within oneself that can result in great joy.

Shalini can be contacted at upahaarschool@gmail.com / shalini@upahaar.co.uk/ +44 7811823684

KAKA KO KUCH KUCH HOTA HAI – Gujarati Drama
Thur, 22 Sept | 7 pm | Dinner – 5 pm | £25/£20/£15

Rajesh Mehta, a person who lives his life on his own terms, is forced to leave home seeing the agony of his daughter-in-law. The story takes a turn when widower Rajesh Mehta elopes the old age home with Sharmila, a 60-year-old lady. This old couple has become a sensation and are the talk of the town.
This is a laughter ride proving that love can blossom even at an old age between Rajesh and Sharmila and the problems he and his family must face in the society, trying to accept their father's love.

Tickets available from P.R Patel - 07957555226
'AANSPLAINING' - Stand up Comedy by Karthik Kumar
Fri, Sept 16 | 7.30 pm | £40/£35/£30 (group and student discounts available)
'Aansplaining' is KK's 4th stand up special. This is a Stand-up comedy 'Tell All' on Masculinity and hopes to create an ally ship between the various gender identities. Aan is Man in English. Show will be in English.
Entry – 16 + only
Presented by Bluefeather Studios
ROOH: THE SOUL OF MUSIC

Sat, 10 Sept | 5.30 pm for 6 pm
Interval - 7.30 pm
£40/£30/£20 (refreshments included in the ticket)

A unique musical show depicting the soul and essence of music and the healing powers that it holds, brought to you by a group of talented doctors supported by professional singers and orchestra. Melodies from the Golden Era of Bollywood with dance performances, this is a special fundraiser supported by the British Menopause Society to raise awareness of menopause and its health impact on women within UK ethnic minority.
Artists Profile
'ArchMan Music' - the brainchild of Drs. Archana Dixit and Manish Bhardwaj - senior NHS Consultants and accomplished singers with a passionate desire to give back to the community, accompanied by other NHS doctors and professional singers, supported by the renowned - 'Orchestra Mehfil' led by the well-known UK based keyboard player Mr Mahesh Patel.
Sanskriti Presents IMAN CHAKRABORTY Live & Exclusive in London
Sat, 3 Sept | 6 pm | £40/£30/£20

Sanskriti Reading, brings to London for the very first time, National Award Winning Singer Iman Chakraborty. Iman is considered one of the best live performers in India and West Bengal and promises an exciting evening of Bengali and Hindi songs ranging from Rabindra Sangeet, Folk, Film, Gazals, Sufi and modern songs.
It has always been Sanskriti's endeavour to organise, present and execute different flavours of Indian Music, linking back to our roots socially and culturally and we hope to continue this tradition with Iman Chakraborty.

Sanskriti takes pride and joy to announce that this event also launches the Sparsha Project, an initiative that empowers the girl child from disadvantaged backgrounds in rural India The aim is yo provide educational and skill-building support to 20 young girls belonging to the marginalized communities in East Singbhum region of Jharkhand. Sanskriti will deliver this in collaboration with Swadhina, a Charity based in India https://swadhina.org.in/ .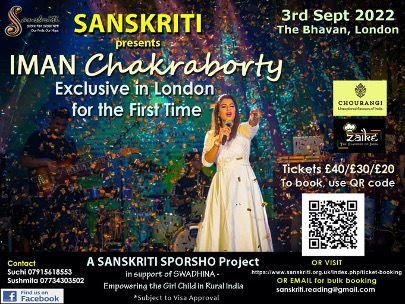 MAYAR KHELA - TAGORE'S IMMORTAL OPERA
Sun, 28 Aug | 7 pm | Entry free, registration required

Mayar Khela - Tagore's Immortal Opera organised by Dakshinayan UK, with ICCR , High Commission of India and Bhavan UK
About this event
For the first time a 20 member troupe sponsored by the Govt of India and supported by the High Commission of India LONDON comes alive with Tagore's immortal opera MAYAR KHELA - the maze of illusion .
DONA GANGULY international dance sensation comes live with her troupe to music directed by DR ANANDA GUPTA.
An evening of opera dance and scintillating music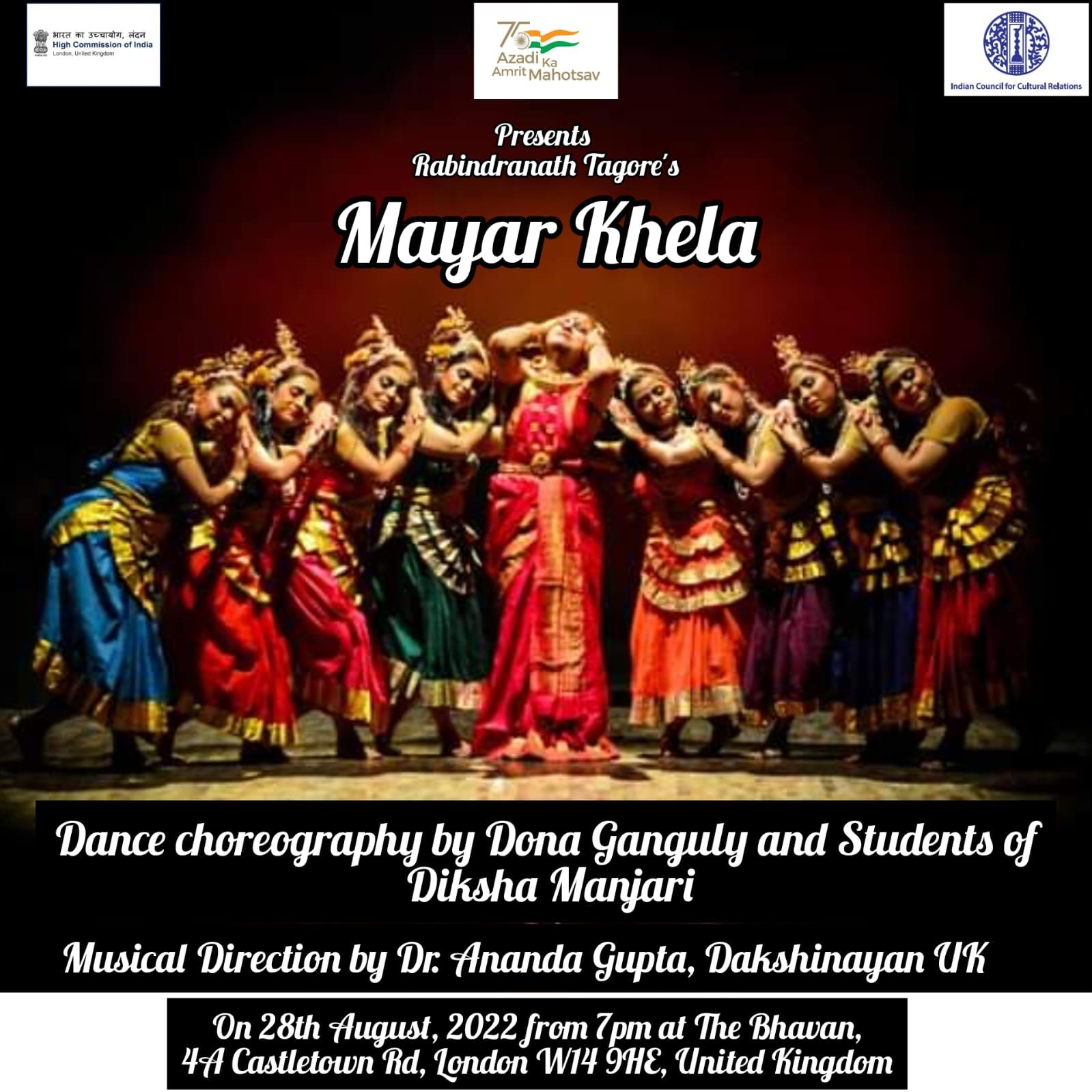 Mental Health Workshop for the South Asian Community - POSTPONED
Sat, 20 Aug | 11 am - 4pm | £16 (studemt) / £22 (general)

Rain On Me CIC is partnering with key experts to tackle mental health stigma in teh South Asian Community. The workshop covers topics including - Exploring your identity, Navigating cultural conditioning, raising self-awareness, emotional support for a loved one, relational issues and how to support oneself through depression.
The facilitators are Tanya Marwaha, Mira Patel, Jaz Singh and Deepanshi Gulati.

Contact team@rainonme.org if they require additional information.

GUIDELINES
18+ only please.
⏰ Please don't be late as this may disrupt the flow of the session for the other participants.
😊 You don't have to participate in the exercises if you don't want to, no one will pressure you.
💕Feel free to bring a friend/family member if that would be more comfortable for you (book 2 seats).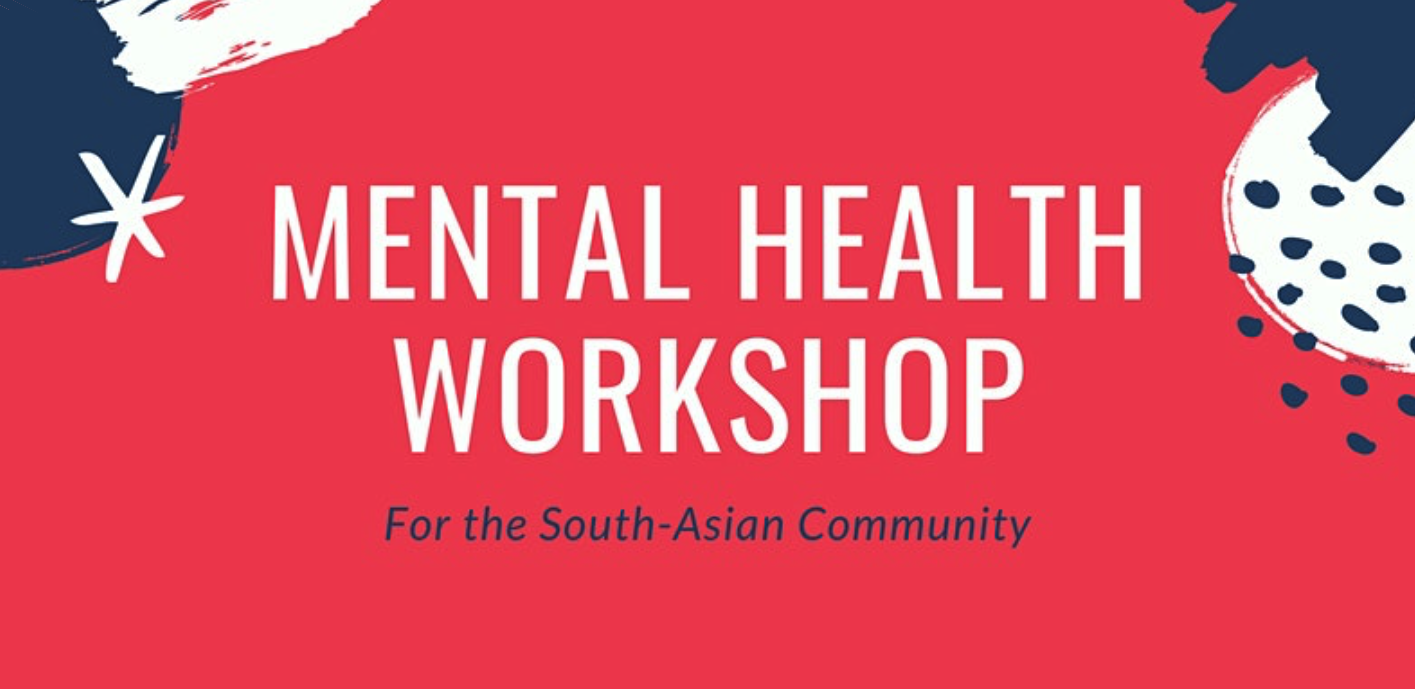 THE BHAVAN'S OPEN DAY 2022
Sat, 10 Sept
10.30 am - 1 pm | 2 pm - 5 pm

The Bhavan welcomes you to our open day on the 10th of September 2022!
As the largest organisation for Indian Classical Arts in the UK, we are the place for all classical arts subjects. From classical dance to music to instruments to languages, we offer all subjects under one roof.

Grab your chance to meet the resident teachers and discuss which class is right for you and register for our courses on our Open Day.

This year, we are delighted to offer special offers:

LOCAL RESIDENTS DISCOUNT - We are pleased to have been serving the local community over the years, and we are thankful for the continuous support. This new academic year starting in September, we are pleased to offer anyone from the Hammersmith and Fulham Borough (both children and adults) a 10% discount for any course they book.
(Address proof required while booking).
REFER A FRIEND DISCOUNT - Have you been learning at the Bhavan? Recommending to a friend? Refer friends to our courses and avail discounts.
Help a new student enrolled with us and you will be able to avail a 10% discount for yourself, and your friend will avail a 5% discount (for a yearly course).
This offer is applicable for all dance, music and language courses.

TASTER CLASS TIMETABLE IS GIVEN TO THE RIGHT -

The Bhavan's Summer School 2022
16 JULY - 7 AUGUST


VIDYAAMAGNA
- Series 2

WEBINAR - THE AESTHETICS OF VARNAM IN KARNATIC MUSIC
Sat, 30 July | 2 pm - 3.30 pm (BST) / 6.30pm (IST) | £10

STELLA SUBBIAH (Artist Development Lead, Bhavan London)
In conversation with
LUDWIG PESCH (Author of The Oxford Illustrated Companion to South Indian Classical Music)
VIGNESH ISHWAR (Musician)
Today, as in the remote past, India's musicians and dancers share a vast and varied repertoire. Apart from facilitating oral transmission, the underlying vocabulary helps to convey feelings underpinned by aesthetic principles and values. So it hardly surprises that the best-loved lyrics are those endowed with scope for reflection and debate among listeners, critics,
and the artists themselves.
For this webinar we focus on several key composers whose vision shaped South Indian music and dance as we know it today. We will consider the compositional form of Varnam or Varna, in Karnatic music which can be interpreted as not only colour, praise , or syllable but also as melodic movements. These melodic movements of Arohi, Avarohi, Sthayi, and Sanchari add to its structure
and offer various musical possibilities for musical interpretations.
Dancing Nikita Company - Annual Summer Production
Sat, 9 July | 3 pm - 6 pm | £20
For tickets please visit - https://dncstudio.com/summerproduction/
(also linked below)
Dancing Nikita Company proudly presents their Annual Summer Production, at the Bhavan Centre on 9th July. More than 50 children, teenagers and adults currently training at DNC, will be performing an array of Kathak dances, taught under the able guidance of Nikita Thakrar.
The event will celebrate DNC's 17th anniversary, since they formed in 2005.The performance will also include a special tribute to the legendary, Late Pandit Birju Maharaji.
Stunning costumes, visuals and music will transport you back to the Hindu temples and Mughal courts, in this spectacular dance showcase, presenting the traditional form of Lucknow Gharana.
SATOBORSHO PORE
Sat, 2 July | 6 pm | £20, £15, £10


Essex Indians Charity presents Uttorsuri -Generation Next Festival. Th festival will showcase an unique concert which will highlight Rabindranath Tagore's legacy hundred years after in a multimedia show. The show will feature the story of Visva Bharati right from its conception to its fruition. Audio visuals and memories of Santiniketan by ashramites (both past and present) juxtaposed with similar theatrical representation on stage will recreate Santiniketan on stage. Iconic festivals of Santiniketan like Briksharopon, Holokorshon, BasontoUtsav, Borshamongol and others will be showcased to the accompaniment of dance, music, and poetry, combining traditional with experimental. Grandiose choral performance of song-poetry-shloka will revisit eternal philosophy of Tagore
SOLO BHARATANATYAM RECITAL BY PALLAVI ANAND
Fri, 1 July | 7 pm | £20, £15, £10


Bharatanatyam artist Pallavi Anand presents a solo Bharatanatyam repertoire under the guidance and mentorship of Sri. Mavin Khoo. Pallavi has been training with Mavin for the past two years and will be taking you through her journey so far.
The repertoire will include pieces of Mavin's choreography as well as that of his Guru, Late Sri. Adyar K. Lakshman.
Pallavi will be joined on stage by a live orchestra - Mavin Khoo, Vamshikrishna Vishnudas, Prathap Ramachandra and Vijay Venkat.

Artist Profile:
Pallavi began training in Bharatanatyam with her mother Shalini Shivashankar (Director of Upahaar School of Dance, London) at the age of five. As her study of the art continued, she received further guidance in Chennai at Bharata Kalanjali School of Natya, founded by the Dhananjayans as well as with Bragha Bessel.
In addition to Bharatanatyam, Pallavi explored Mohiniattam briefly and has begun her training in Mridangam and Nattuvangam, aiding her sense of rhythm and musicality within dance. She has presented several solo, duet and group recitals in the UK and abroad and is currently also a dancer in Akram Khan's 'Outwitting the Devil'.
Pallavi continues to train and find her voice under the mentorship and guidance of Mavin Khoo.
'Qu'as-tu fait Lola ?'
- French Drama
Sat 18 June, 8pm | Sun 19 June, 6 pm | £15

"The amateur French speaking drama company Tamise En Scène will perform a free adaptation of two Pedro Almodovar's movies : "All about my mother" and "Dark Habits".
Manuella has just quit her job and left her flat in Madrid, and moved to Barcelona, looking for a mysterious Lola.
On the very first day of her arrival, she meets accidently an old friend : Agrado. Agrado is a transvestite with a big heart, wishes to escape the clutches of prostitution.
Together, they decide to go to the convent of the humiliated redeemers where the nuns, under the authority of the Mother Superior, help the lost souls to get back on the right track.
Pedro Almodovar remains the master of rock and baroque melodrama. Impossible not to be touched by his powerful scripts and his inspiring characters.
This show is performed in French language and recommended for an audience above 16 years old (no nudity but strong language)
INTERNATIONAL YOGA DAY - FREE OPEN YOGA CLASS
Tue 21 June | 6.30pm - 8 pm | In-Person and Online


On the occasion of International Yoga Day, the Bhavan is pleased to offer a free open Yoga class with The Bhavan Yoga teacher Suzanne Gribble.
In this class you will get an insight into the essentials of Iyengar Yoga, an opportunity to interact with the teacher, and have a chance to register for the regular classes.

This open class is limited to 20 students in-person and 10 online only and registration is compulsory.
If you register and for any reason are unable to attend, please do inform us beforehand so we can give your space to someone else.



Odissi Workshop with Ileana Citaristi
Tue 31 May & Wed 1 June | 6.45 pm - 8.15 pm | £15 each day/£25 for both days


Dr. Ileana Citaristi will teach a two day Odissi workshop at the Bhavan London.
The workshop is ope to students of all levels and students will get to learn charis and arasas.

ABOUT
Dr. Ileana Citaristi is an Italian-born Odissi and Chhau dancer, guru and choreographer, based in Bhubaneshwar, India since 1979. She was awarded the 43rd National Film Awards for Best Choreography for Yugant, a Bengali film directed by Aparna Sen, in 1996 and conferred with the Padma Shri by the President of India in 2006 for her contributions to Odissi dance. Besides Yugant, Dr. Citaristi has also choreographed for M.F. Hussain's Meenaxi: Tale of Three Cities (2003) and Goutam Ghose's Abar Aranye (2004). Dr. Citaristi is the author of four books; 'The Making of a Guru: Kelucharan Mohapatra, His Life and Times' (2001), 'Traditional Martial Practices in Orissa' (2012), 'My journey, a tale of two births' (2015) and 'Odissi and the Geeta Govinda' (2022). She is imparting training in Odissi and Chhau dance in her own institution Art Vision in Bhubaneswar, founded by her in 1996.

Vaikasi Utsavam
Fri, 20 May | 6 pm | £25/£20/£15 | Children's discount £15/£12/£10
Doors open - 5 pm
An evening of motivational and spiritual discourse by Shri Dushyanth Sridhar with an emphasis on the aspects of Lord Vishnu, followed by classical singing by Rahul Vellal.

ACCOMPANISTS
Violin - Sri. Balu Raguraman
Mridangam - Bangalore Prakash
NATTUVANGAM SHORT COURSE
SHORT COURSE


Mon, 16 may onwards, 6 week course | £110
Our
previous
Nattuvangam short courses have
proven
hugely popular among
dance
and music practitioners, and we are delighted to bring in another instalment.


Students will gain an insight into the skills needed for composing Jathis, steps and rhythm patterns, how to play korvai compositions, a detailed look at the sapta talas through nattuvangam, pancha nadai (the 5 basic nadais or rhythmic patterns in Karnatic music), and pancha jathis.
This is a comprehensive course which is open to musicians and dancers and rhythm enthusiasts of any genre, and open to beginners as well as intermediate and advanced learners.
The course will be taught by Bhavan's resident teacher Sri M. Balachandar.
Starting form May 16 onwards, this is a 6 week course with 1.5 hours of training every week. The unique feature about this course is that students will be able to lease their timings with the teachers to choose a slot that suits them the best.
RABINDRA JANMOTSAV 2022
EVENT


Sat, 14 May | 7 pm - 9.30 pm | Entry free, registration required
Join in this International celebration of the 160 birth anniversary of Rabindranath Tagore. The event is a celebration of 8 decades of his musical genius through live music, dance and poetry. A special focus will be his magnum opus 'Chitrangada'.
The event will be in English and Bengali languages.
Collaborative organisations:
HCI LONDON and NEHRU CENTRE
BHAVAN
BRITISH MUSEUM
AU FIL DES NOTES... AU FIL DES MOTS...
- French Drama
Wed 11 May, 8 pm & Thur 12 may, 8 pm

In presence of a pianist performing live, the French drama group explores
different comedy scenes of the French repertoire.
The show will be in the
French
language.


MAVIN KHOO IN CONCERT
DANCE PERFORMANCE


Sat 7 May | 7 pm | £25,£20, £15

Dancer Mavin Khoo returns to his artistic and creative roots - the solo concert format of the Bharata Natyam repertoire. Through his many diverse creative explorations, this has always been - and remains - his first love.
In this intimate recital, Khoo will talk about his life and memories - weaving them within an evening of dance, live music, and improvisation.
The evening will commence with Nadaswaram temple music. In the performance, Khoo will be accompanied by an orchestra composed of Vamshikrishna Vishnudas, M Balachandar, Divya Kasturi and Vijay Venkat.
ABOUT MAVIN
Mavin Khoo is an international dance artist renowned as a solo classical Bharata Natyam dancer as well as a contemporary dancer with a classical ballet background. He studied Bharata Natyam with maestro Padma Shri Adyar K. Lakshman in India.
Khoo has carved a niche for himself as a touring artist as well as a choreographer and artistic mentor. He serves as Creative Associate with the Akram Khan Company in London.
DR. VASUNDHARA DORASWAMY presents 'SURYA NAMASKARA'- A solo Bharatanatyam recital
DANCE PERFORMANCE
Sun May 1 | 4.30 pm | £10

SURYA NAMASKARA

In many cultures, light has long been a symbol of consciousness and self-illumination. "The world is said to have begun with the coming of light". Sun has inspired mythology in all cultures and the Hindu Mythology is no different. For thousands of years, the Hindus have revered the sun, which they call Surya, as both the physical and spiritual heart of our world and the creator of life itself.
In this Suryanamaskara, the dancer sings in praise of the Lord responsible for the destruction of the two demons who had engrossed the world in darkness and thus shed light to the Universe. The dancer will showcase various asanas and illustrate convincingly adopting the similar gesture and postures in Bharatanatyam.
Dr Vasundhara obtained her Phd for the research on the correlation between yoga and Bharatanatyam in 1986. This extensive research on yoga and dance led to this production in 1996 and also her book "Natya- Yoga Darshana" -Impacts of spiritual practices on Dance.
This production was developed by Dr Vasundhara as an extensive 2 hour production which has been shortened to a 30 minute presentation and is being showcased by the septuagenarian here. In 1998, Dr Vasundhara was awarded the title "NatyaJyothi" in the South East Asian Yoga Conference (Melbourne, Australia) for presenting this unique adaptation of Yoga and dance.
BHARATANATYAM WORKSHOP WITH DR. VASUNDHARA DORASWAMY
DANCE WORKSHOP
Wed 27 April 2022 & Thur 28 April : 6 pm - 8 pm | £40
Renowned dancer Dr. Vasundhara doraswamy will conduct a two day workshop in Bharatanatyam. Open to intermediate and advanced students,
Over the tow days students will have the opportunity to learn two special pieces that illuminate the choreographic insights and approach of Smt. Vasundhara Doraswamy.

Melaprapti
- Melaprapti is a dance choreography to the musical amalgamation of the ensemble or orchestra.Traditionally, this was a poorva ranga vidhi or behind the screen ritual done to draw the attention of the audience before commencing the performance. Dr Vasundhara has incorporated it into her repertoire as an invocatory piece.
Vachana: Vachanas are intelligible prose texts which call upon us to give up the desire for worldly wealth and learn to live lives of sobriety and detachment from the world and to turn to Lord Shiva for refuge.

Vasundhara's Chroreography & teaching methodology
Dr. Vasundhara gained her initial training in Pandanallur Style of Bharathanatyam. Over the years, with her experience and creativity has been able to give it a unique footprint of her own which is being recognized by the dance fraternity and the art connoisseurs in her performances and that of her students'. This transformation was never a drastic or intentional move but something that evolved into a beautiful piece of art over the years.
Dr Vasundhara's strong footing in Yoga as a practitioner and further as an exponent of martial arts was what inspired her to experiment within the boundaries of the classical dance of Bharatanatyam.
Incorporation of Yogic postures added to the gorgeousness of the dance form, whereas regular practice of Yoga helped her in perfecting the geometry of the movements making the choreographies a visual treat. Martial arts provided inestimable vibrant energy to these movements. Use of singular hastas, alluring gaits, abhinaya which can communicate easily with the common man, modifications of the adavus, aharya, inimitable feather-touch footwork, all within the traditional framework have led to a unique footprint that is today identified and recognised by one and all as "Vasundhara Style". The primary objective is to use Angika Abhinaya for aesthetic delineation. These innovations have been instrumental in taking Bharatanatyam to a wider audience.
SITAR - SHORT COURSE
SHORT COURSE
Sun 24 April 2022 : 16:30 – 18:30
Mon 25 April – Thurs 28 April 2022: 18:30 – 20:30

This course is a unique opportunity to explore the rare tradition of performance of South Indian Ragas within the North Indian classical music. You will learn the special musical structures and performance nuances which allow the music of these two great Indian musical traditions to blend seamlessly together.
This course will be a unique opportunity to broaden your musical knowledge and to assimilate, perform and enjoy a rare musical tradition utilised by some of the greatest North Indian masters.
The course will be conducted by Bhavan's Resident Teacher Sanjay Guha, an exponent of Maihar-Senia Gharana and a disciple of Pandit Ravi Shankar, Pandit Deepak Chowdhury and Dr M Balamuralikrishna.
Suitable for Intermediate students or above.
This course is available in-person and via ZOOM.
Stella Uppal Subbiah presents :
KNAVE OF HEARTS - KRISHNA
In collaboration with Uyir, a collaborative dance project

Sat 2 April, 6 pm | £15/£10

Krishna, one of the forms of Vishnu, is the most widely remembered, sung about and celebrated figures of Indian mythology.
'Knave of Hearts' presents choreographies that depict the myriad Krishna narratives that have become embedded into stories that frame the innocence of childhood.
Starting from the Tamil epic Cilappatikaram to Purandara Dasa and the modern composers such as Tiger Varadacharya, the show looks at literary perceptions of Krishna in various languages including Sanskrit, Tamil, Malayalam, Braj, Kannada, and Marathi among others to unearth the very fabric of Indian culture and language. It seeks to expand the possibilities of Bharatanatyam to translate myths from their literal representations to their symbolic meanings.
This project is supported by The Bhavan and Arts Council England
Featuring a stellar cast of performers ad artists from UK, France, Italy, Germany and India.
CREDITS
Original Music conceptualised by - Vignesh Ishwar
Choreography - Stella Subbiah
Dramaturgy and Video courtesy - Dr. Sabine Sorgel
Rehearsal Director - Dr. Debbie Fionn Barr
Programme title courtesy - Dr. Uttara Natarajan
Film - Roswitha Chesher, Vita Film

MUSICIANS
Vocalist - K Sai Sankar
Vocalist - Vignesh Ishwar
Mridangam - Siva Prasad
Violin - Eashwar Ramakrishnan
Flute - J B Shruti Sagar
Nattuvangam - Sudarshini Iyer
Sound mix and mastering - Biju James
Recording Studios - VGP Studios, Chennai
Young Person (3 - 19 years) £13 and £8 instead of discount available.
Buy 4 or more tickets and get a 20% discount.
Solo Bharatanatyam recital by Divya Ravi
Sat 19 March, 6 pm

Bharatanatyam danseuse Divya Ravi presents a solo Bharatanatyam Margam, a traditional repertoire with specially curated pieces choreographed by Sri. Mavin Khoo.
Known for her fluid movement vocabulary, finesse in expressions, innate musicality, and a commanding stage presence, her performances are intelligent and experiential.
She will be accompanied by live musicians - Sri. Mavin Khoo on Nattuvangam, Sri. Sharan Subramanian on vocals, Sri. M Balachander on Mridangam, and Sri. Balu Raguraman on Violin
.
HINDUSTANI VOCAL - SHORT COURSE
SHORT COURSE
Mon 14 - Thur 17 March 2022: 18:30 - 20:00
Sat 19 & Sun 20 March 2022: 16:00 - 1800
The Bhavan is proud to present 'MORNING RAGAS', a special Hindustani vocal short course.
Exploring the ragas that are specially sung in the morning time, this course will take a detailed look into their nuances and intricacies through various compositions.
Taught by resident Guru Chandrima Misra, this course is open to students with a minimum of two years training in Hindustani Vocal.
TABLA - SHORT COURSE
SHORT COURSE
Mon 7 March 2022 - Wed 16 March 2022 : 18:00 - 19:30
Classes are every day, Mon-Fri.

This course will delve into the nuances of Tabla with a special emphasis on taalas. Students will get an insight into the basics of Tabla, rhythm, pace and clarity.
This will also be a unique opportunity to interact with Guru Pt.Rajkumar Misra to understand the philosophy of the art of Tabla and how Tabla can help you connect with life.
Open to all levels including beginners, the lessons will be modified to suit every student no matter their stage of learning.
The course will be taught by Bhavan resident teacher Pt. Rajkumar Misra

Bhavan's Founders' Day celebrations
PERFORMANCE
Sat 12 March, Sun 13 March : 3 pm

Join us for a celebration of Indian art and culture as a part of our annual Founder's Day.
Watch Music and dance performances by Bhavan students and celebrate their achievements with us.

The event will be followed by dinner.


THE BHAVAN LIVE | SHANKAR 100 AT SOUTHBANK CENTRE
Sat 5 March, 1 pm
Southbank centre, The Clore Ballroom, Level 2, Royal Festival Hall
Students from The Bhavan perform a mixed programme of Indian vocal, orchestral and dance pieces.
Now in its 50th year, The Bhavan had a strong relationship with Ravi Shankar, who was a patron of the institute for over a decade and taught and performed there many times during his life.
This event is part of Shankar 100, a programme organised to celebrate Ravi Shankar's 100th birthday in 2020.
After the pandemic caused Shankar 100 to be delayed, the belated celebrations is being hosted now in 2022.
NAARI - A Musical on Epic Women in War and Romance
5 March, 6.30 pm

Kalakar Arts UK Presents 'NAARI - A Musical on Epic Women in War and Romance.'
This historic project based on the timeless Indian epic Mahabharata is aimed at highlighting and promoting the universal idea of women's well-being who have directly or indirectly faced violence in everyday life. Female characters known for their enduring 'resilience' draw out emotional complexities in times of war and upheaval through a series of reflective pieces weaving a traditional tale with contemporary twists.

The show produces fusion art forms of music, dance, drama, and narratives that address gender and empowerment, hidden voices, and echoes from the underground.
Produced by Kalakar Arts UK
Directed by Chandra Chakraborty, Dr Sanjukta Ghosh and Srimati Indrani Datta.
'BENCH' - A French Drama
Thur 3 March, FRI 4 March 8 pm

So French Productions presents BENCH, A French Drama.
Written by French playwright Jean Claude Grumberg and Directed by Edith Vernes.


Bhavan's Shivaratri Celebrations
Tue 1 March, 7 pm

The Bhavan welcomes you to our annual Shivaratri puja.
Join us as we celebrate the spirit of Lord Shiva with m
usic and dance performances.
The event will be followed by prasad.
Sponsored by Mrs Pratibha Sharma and family.

ENTRY FREE, REGISTRATION REQUIRED.
'SANSKRUTI DARSHAYAAMI'
Republic Day 2022
Fri, 28 Jan, 6.30 pm

Join us for 'Sanskrit Darshayaami' a joint Republic Day celebration with the Nehru Centre.
Witness a rich stage tableau of the cultural diversity of India.

FREE ENTRY, REGISTRATION REQUIRED.
IYENGAR YOGA -
OPEN DAYS
Tue 11 Jan, Wed 12 Jan

Kickstart the new year with Yoga! Join us for Iyengar Yoga open days!

Tue 11th Jan, 6.30 pm - 8.00 pm - General level with Suzanne Gribble

Wed 12th Jan, 6.30 pm - 7.45 pm - Beginners' level with Elaine Morrison

Both days are in-person only. Online option is available for regular classes.

NOTE - Due to current covid situations, restrictions on attending live classes and events might be liable to changes. Please check for updates on our websites for any changes.
Bhavan's Christmas Celebrations

Christmas celebrations
Sat 11 Dec : 1PM

We are delighted to welcome you to our Christmas celebrations.
Join us for music, dance performances and Christmas message.

The event will be followed by snacks and refreshments.

Entry free, all are welcome.
IIW presents - A bend in the road is not the end of the road

Charity event
Sun 5 Dec : 5PM


Inspiring Indian Women presents - A BEND IN THE ROAD IS NOT THE END OF THE ROAD - a charity event.
The two hours event will consist of Talk by people working in this field or the special guests themselves , dances and songs related to the theme .
A small percentage of all the proceeds from the event will be donated to two organisations - Tweet India Foundation (Mumbai) and TEA24 Disability Foundation (Bihar).
Chief Guest - An official from High Commission of India, UK.
Guest of Honours - Mattur Nandakumara · Executive Director at Bharatiya Vidya Bhavan
Purpose especially in the context of India -
An effort to create an awareness for equal rights and opportunities for the Differently abled , Special Needs !
Reaffirming and Reasserting the power of Self Confidence , high self esteem , changing mindset , attitudes, feeling happy , feeling beautiful and especially SPECIAL.
FUNDRAISER LINK - https://bit.ly/3xgxJus
Sangeet Prabhat

Live Music Concert
Sat 4 Dec : 6PM TO 9PM


Prabhat Rao is a leading UK based Hindustani classical vocalist, an established teacher and
promoter of classical arts. He presents his students in this recital with a varied repertoire
inspired by India's classical, folk and spiritual music traditions. Join us to experience the artistry
of his talented disciples who undoubtedly are future torch bearers for this tradition here in the
UK.
Vocalists:
Tiasha Pal, Dhyey Gala, Rudri Jani, Reva Kesarkar, Anwita Shanker, Preya Sumaria, Ashmita Acharya, Param Jani, Advay Bhargava, Diksha Murli, Jalpa Pandya, Tom Stacey, Vandana Joshi, Kamayani Ghatak, Payal Depala, Hiten Dodhia, Rajni Pandya, Taran Singh, Jyoti Joshi, Anjana Thaker, Madhvi Mulji, Pearl Chokshi, Sanvi Chokshi, Shobhna Unadkat, Smita Vyas, Bharti Patel, Harsha Thaker
Tabla: Himmet Singh Bahra


All vocalists are students of Prabhat Rao and are currently training with him.
SMT. SIVASAKTHI SIVANESAN MEMORIAL EVENT
Memorial event
Tue 30 Nov : 7.00PM


The Bhavan welcomes you to a special event in the memory and honor of Smt. Sivasakthi Sivanesan, an artist and teacher par excellence and The Bhavan's beloved former Karnatic Vocal and Vina Guru.The event will feature music and dance performances from The Bhavan's students and teachers and short speeches. The event will be followed by dinner.


Entry free, registration compulsory
Atul Khatri in London

Stand - up comedy show
Sun 28 Nov : 6.00PM


Can Indian CEOs be funny?
Yes. Meet Atul Khatri, a middle-aged ex-CEO -tuned-comedian who now makes a living making people laugh harder than they ever have. Please watch his comedy special on Netflix as part of "Comedians of the World" which featured the globe's top 47 comedians.
Bringing his 50+-year-old perspective with every show, Atul starts with his experiences of getting Covid and how he survived the trauma of his fellow "Uncle" colleagues giving him unwarranted advice. He also feels that the pandemic has definitely made some things better including condolence meets. His fun set includes his relationship with his daughters and why he feels he is truly blessed to have daughters rather than sons. CNN-IBN rated him as one of the Top Comedians of India. Join in as he makes fun of super-relatable observations and situations from all walks of life, truly making it a show for everyone. His set is mainly in English with a few Hindi expletives.
*NO KIDS UNDER 16 YEARS ALLOWED*
*NO VIDEOGRAPHY OR PHOTOGRAPHY ALLOWED*
*All Student discount tickets will require valid student Id at the time of admission *
*There might be COVID related screenings and temperature checks as per the venue policies*
ABHYAAS - 2 Day Kuchipudi Foundation Workshop

Kuchipudi Workshop
Sat 27 Nov, Sun 28 Nov
Workshop - 10 AM - 12 PM
Informal Showcase - 12 PM - 12.30 PM

The Bhavan and Arunima Kumar Dance Company Present an Open Foundation Kuchipudi workshop by award winning dancer , guru and choreographer, Arunima Kumar. The workshop will focus on giving a comprehensive taste of Kuchipudi foundation course and participants covering basic Steps (Adagulus) , Jatis , introduction to Angikam piece and Mudras (gestures) .
The workshop will be accompanied by a live Mridangam artist, which is a great opportunity for students to dance with live music.
The workshop will be followed by an informal sharing and performances. All parents and friends are welcome to join us for the sharing.
For fee details and registrations for the workshop - £55
Please contact Arunima on kuchipudi.akdc@gmail.com/07825178271
Informal sharing and performance- £5 (per day)

* Open to all ages. Limited spaces, advanced registration only.
Shraddhanjali - A Tribute to Pt. Sharda Sahai Ji (22/09/1935 - 20/11/2011)

Musical Tribute Concert
Sat 20 Nov : 6.30PM TO 9.30PM


Please join for a memorable musical evening in memory of the Great Legend.
We are delighted and honoured to have Sabir Khan Ji grace this auspicious occasion with his beautiful music!
The lineup includes:
Sanju Sahai Ji, Sabir Khan Ji, Jaymini Sanju Sahai, Debipriya Sircar, Raaheel Bain, Kirpal Singh Panesar, Guy Schalom, Giuliano Modarelli, Pirashanna Thevarajah, Bernhard Schimpelsberger, Jesse Bannister, Anil Sandhu, Rajvir Singh, Sarabjeet Singh Dogra, Harkiran Sahota, Upneet Singh Dhadyalla and Dhruv Jogia
ABOUT SANJU SAHAI
Sanju Sahai, a phenomenal and outstanding Tabla player, is well known for mesmerising and captivating
his audience with his power, virtuosity and complete spontaneity. He is currently one of the finest and
most sought after Tabla players of his generation. Belonging to the Benares Gharana (lineage) and
being the 6th generation of Tabla players in the lineage, he began playing at an early age. Being a child
prodigy, and the son of the legendary Pandit Sharda Sahai Ji, he gave his first Tabla solo performance
at a major festival in Benares at the tender age of 9.
YAKSHAGANA
by
Keremane Sridhar Hegde
Traditional 'Dance - Theatre' from Karnataka, India
Sun 14 Nov : 11.30 AM TO 1.15 PM
FREE ENTRY, REGISTRATION REQUIRED | DONATIONS WELCOME


The Bhavan is delighted to invite you to a Yakshagana recital by 6th generation artist Keremane Sridhar Hegde. Yakshagana is one of the most popular traditional dance - theatre forms from South India featuring elaborate costumes, music, and intensive expressions.
ABOUT THE ARTIST
Being raised in a cultural environment replete with the influences of art, music, and literature, Shridhara was initiated into Yakshagana in early childhood by his grandfather Late Keremane Shambhu Hegde and is a 6th generation traditional performing artist of Keremanelineage. Since then, he has been learning under his Father Keremane Shivananda Hegde and performing all over India with his artists' troupe - the Mela. He did his Bachelor's in Physics and has worked in several distinguished scientific research institutes of the country. He
learnt Kathak under the guidance of Guru Dr. Maya Rao and did Diploma in Choreography from NIKC which gave him new perspectives for direction and choreography of his own art form. He has been involved in conducting numerable socio-cultural activities in the art centre at the native coastal village (like national Performing art festival, programs for
school children, Gurukula, dance music research, etc) alongside Yakshagana performances all over the country. He received a Scholarship for Young Artists by Ministry of Culture, Govt.
of India and is one among the selected 15 upcoming cultural entrepreneurs from all over South Asia under "Art Think South Asia Fellowship (ATSA)" in 2019.
His other interests include Indology, Performance Studies, and Cultural anthropology, Cognitive Science, Language, Logic and Literature.
RAMAYANA - A puppet show
* Diwali Special *
An online puppet show event
Sun 7 Nov : 1.30 PM (GMT)

The Bhavan presents a Diwali Special Online event - a puppet show that will showcase the story of Ramayana and its
significance
with the festival Diwali. The event is presented by StoryHour, UK.
Neelima Penumarthy, who is the Director of StoryHour, UK, and also the producer of the show,
says
-
'Our motto is to "Connect Cultures" through stories. We produced an award-winning audiobook and a puppet show titled "The Ramayana - An Ancient Indian Epic", which conveys the story behind the festival, Diwali.'


The show will begin with an introduction by The Bhavan's executive Director Dr. Mattur Nandakumara who will outline importance of Ramayana to Diwali.
The event will end with a Q&A session with Neelima and Dr. Nandakumara.
Dr. SASTRY MEMORIAL LECTURE SERIES

ONLINE LECTURES ON INDIAN MATHEMATICS by Dr K. RAMASUBRAMANIAN
ONLINE LECTURE SERIES - FACEBOOK LIVESat 23 Oct : 3PM TO 4.15PM (BST)
SAT 30 Oct : 3PM TO 4.15PM (BST)
Dr K. Ramasubramanian is the Institute Chair Professor at the Department of Humanities and Social Sciences, IIT Bombay. He holds a doctorate in theoretical physics, and is the world's pre-eminent expert on India's mathematical and astronomical heritage. His books and articles have brought to light the non-trivial mathematics produced by the Kerala school of mathematics in texts such as Ganita-Yukti-Bhasha, Karana-paddhati
and Tantra-sangraha.
He is a recipient of the prestigious presidential award Maharshi Badarayan Vyas Samman (2008), and more recently, has been invited to give a distinguished lecture at the International Congress of Mathematicians (2022) which, for mathematicians, is said to be equivalent to "induction to a hall of fame."
The Shankaracharya of the Sringeri Sharada Peetham has also recognised his scholarship in Advaita Vedanta with
the title "Vidvat Pravara."
Sat 23 Oct : 3PM TO 4.15PM (BST)

Indian Mathematical Heritage:
A Broad Overview

FOLLOWED BY AUDIENCE Q&A
Sat 30 Oct : 3PM TO 4.15PM (BST)

Indian Mathematics: What remains to be uncovered?

FOLLOWED BY AUDIENCE Q&A
Dr K. RAMASUBRAMANIAN
WAYFINDING
Art Exhibition
22 - 28 October 2021
Private View: Friday 22 October 6-9pm
Wayfinding is a group exhibition of works by Sacha Bowling, Jo Heckett and Ricky Plante.
The three artists grant a snapshot into their respective creative journeys which are defined as much by past experiences as by dreams and visions for the future. Initially following paths prescribed by necessity, societal and commercial constraints, whether raising families or following family traditions, their current practice is at once mature and emergent.
Building on successful careers as film makers, graphic designers and crafts people, each decided to realign their direction to answer a long held passion for art. Wayfinding is as much a personal project as a creative commentary on the prevailing prejudices in wider society and in the art world in particular.

ARTISTS
Sacha Bowling is a film maker and photographer living and working between London and Los Angeles. Whether expressed through moving image or still photography, his work becomes an integral part of the stories it tells.
Jo Heckett is a visual artist working across media who explores concepts that aim to describe the indescribable, such as mythological archetypes, Paganism, and themes of science and magic, through the lens of reclaiming the feminine.
Ricky Plante takes his inspiration from graphic novels and vintage movies. His fine art practice explores movement, weight and mark making by combining graffiti elements with mixed media and painting into gestural abstractions.
Banyan Tree Exhibition: South Asian Dance in the UK 2000-2020.
Exhibition
OPENING - 14 Oct 2021, 6 PM
Thu, Oct 14 - Tue, Oct 19th, 12 pm - 8 pm
We warmly invite you to the launch of the Banyan Tree Exhibition: South Asian Dance in the UK 2000-2020.
The exhibition celebrates the dance artists who have contributed their unique vision to dance, through the lens of Simon Richardson, the chief photographer of Pulse magazine (2002-2017).
The last two decades have witnessed the diffusion of South Asian forms across multiple spaces, and in new ways. The images tell the story of the contemporary makers and performers and those from whom they have inherited the forms.
WORKSHOPS
As part of the ongoing Banyan Tree exhibition, there are 3 #workshops happening as well.
Join us between the 16th and 19th October at The Bhavan, London for three, #freesessions with Meera Patel, Kali Chandrasegaram, and Shivaangee Agrawal.
On #Saturday 16th October, Meera will draw little ones into an enchanting world of storytelling | 3.30-4pm (babies and toddlers) & 4.30-5pm (5-10 year olds) | In-person only
On #Sunday 17th October, Kali will get all ages and abilities grooving in a fun dance session | 4-5pm | Via Zoom only
And on #Tuesday 19th October, Shivaangee will help you build confidence in expressing responses to movement | 6.30-8pm | In-person and via Zoom
Find the registration links to all 3 workshops below
ZEROCLASSIKAL PRESENTS - Altered Boundaries
Live Music Event
16 Oct 2021, 7.30 PM

zeroclassikal presents ALTERED BOUNDARIES.
The first half will feature classical ragas Jinjoti and Hemant performed by Ensemble musicians with Debasish Mukherjee on tabla.
This will be followed by 'Altered Boundaries'.
This new work by Jonathan Mayer is a concept of a string quartet, which is not a new one and even one incorporating Indian music is not new either. However, replacing the standard x2 violins, viola & cello with x2 sitars, sarod & sarangi, it will create a new sound not heard before. It aims to push the boundaries of contemporary Indian classical music, challenging the improvised based and homophonic nature with polyphonic textures, but keeping the essence of the raga structure.
The 40 min work feature Jonathan Mayer on main sitar joined by highly skilled and accomplished Indian classical musicianship of William Rees Hofmann on sarod, Pete Yelding on second sitar and Surjit Singh on sarangi.
Durga Puja 2021

Wed, 13 Oct, 7 PM

The Bhavan london warmly welcomes you to Durga Puja 2021. Join us for the puja celebrations followed by devotional songs, dance, and prasad.
THIS EVENT IS SPONSORED BY BHARADWAJ FAMILY
Celebrate the energy of the Goddess.
7 pm onwards
LIMITED ENTRY, REGISTRATIONS COMPULSORY
LAST DAY TO REGISTER - OCT 12TH
IndianRaga Festival
Event - Workshop and Performance
2 Oct 2021
IndianRaga Festival 2021 is a celebration of music and dance and delightful experience for cultural aficionados.
This year's event will see unique music and dance productions created by UK-based artists who were guided by maestros and award-winning choreographers such as Vamshi Krishna Vishnudas and Sujata Banerjee, MBE along with IndianRaga fellows, Eshani Sathe and Chiinthu Sarvan.
A specially commissioned dance- Samaja Vara, conceptualised and performed by Ashwini Deshpande, Pranita Chaudhary, Anaya Vasudha Bolar, Ami Jayakrishnan will be showcased at the festival.
IndianRaga Festival 2021 will feature career-defining masterclasses by Chitraleka Bolar, Sujata Banerjee and Rekesh Chauhan who are renowned globally for their rich contribution to Indian and Western classical art forms.
For further information, contact IndianRaga London team: london@indianraga.com / +447789099901
HastShilp London
EXHIBITION
24 Sept - 26 SeptFri 24 SEP : 3PM TO 7PM
SAT 25 SEP : 11AM TO 7PM
SUN 26 SEP : 11AM TO 4PM

Hastshilp London the collective was founded in 2016 with the aim to bring to the audience of the UK, a well curated collection of high quality handcrafted and ethically sourced wares from India. Each designer seeks to showcase the rich and vast heritage of karigari – craftsmanship, by incorporating in their work the various craft traditions found in India. Some designers work closely with craftsmen and artisans from the Indian subcontinent who in some cases are carrying on traditions that are generations old. Some exhibitors create the generations old arts and crafts themselves. By supporting these artists they hope to ensure that these rich traditions will carry on for a long time to come. The aim of the collective is to not only to sell these beautiful products but also in the process make the customer aware of the journey, the history and the story behind each craft's traditions.
1. Shinjini's Art - Shinjini Thakur
Instagram - @shinjinisart
Facebook - www.facebook.com/shinjinisart
2. Eastern Elements - Neha Jain
Instagram - @elementseastern
Facebook - https://www.facebook.com/easternelements
3. Dimple Design - Dimple Kalla
Instagram - @dimpledesign4u
Facebook - https://www.facebook.com/dimpledesign4u
4. UltraKriti - Vaishali Sanghal
Instagram - @ultrakriti_chikankari
Facebook - https://www.facebook.com/UltraKriti